OUR YARN STORE
Welcome to Michigan Fine Yarns, a BIPOC family business located in Livonia, MI. We're a passionate team dedicated to creating a warm and welcoming environment for all makers. Our shop radiates with the beautiful colors and luxurious textures of an extensive selection of high-quality yarns from around the globe. Adorning our shelves, you'll discover the treasured Bibi Yarn, lovingly hand-dyed by our owner, Swaran, in tribute to her late mother.

We cater to every knitting, crocheting, and weaving need, offering an array of tools, notions, kits, and patterns sure to inspire and equip artisans of all levels. Our collection showcases a diverse range of fibers including wool, silk, cashmere, Angora, alpaca, cotton, bamboo, linen, soy, and recycled fibers. Alongside these, explore our unique AcademicHobbyist collection of notions, a conscious initiative supporting Detroit in partnership with Wayne State University's Hub for Evaluation and Learning (HEAL) Detroit initiative. Our local store samples will inspire you as well!

If you're not local, fear not! Our online store brings the beauty and variety of Michigan Fine Yarns right to your home. Browse our collections from the comfort of your couch and pick up your next project!

At Michigan Fine Yarns, we're more than a yarn store. We are a vibrant community stitched together by a shared love for craft and a commitment to social good. Whether you're a seasoned maker or just starting your creative journey, we can't wait to welcome you. Happy shopping!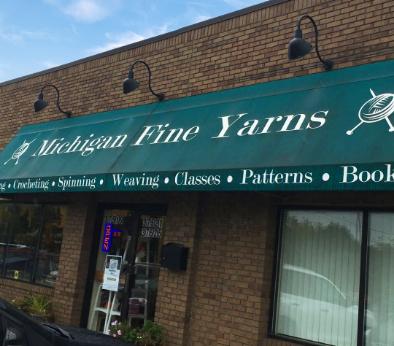 Creativity
We value making things by hand and inspiring makers. From concept to finished project, we're here to spark and hold space for the creative genius in everyone who joins our fiber arts community!
COMMUNITY
We value the unique qualities of all makers in our community, knowing that's what brings us together. The fiber arts are healing and expressive. We value being compassionate, kind, and courteous with all in our community so we can create space for them to feel the richness of the fiber arts.
Compassion
Having an inclusive community is a foundational value for us, rooted in compassion. We are committed to cultivating an environment where creativity, comfort, and connection reign. United by the fiber arts, expressing each individual story through our craft - this is our secret sauce!
Our mission:
Nurturing creativity and wellbeing of all makers through the fiber arts, the healing arts.

United by the love of fibers, we strive to nurture our community of makers. In tough times, we believe in the power of the community to uplift and bring out the best in each other. Our creative expression, community, and craft can only grow stronger when we create a space that is welcoming and safe for all who joim us. As the fiber arts have been the source of a lot of healing in our own story, we aim to nurture the wellbeing of all makers we cross paths with, both intentionally and compassionately. We're committed to this vision and look forward to supporting and comforting you all through the joy of our beloved yarn crafts.
COME VISIT US
We'd love to see you in person! Our store is open and offers curb-side pick up as well!
37519 Ann Arbor Rd,
Livonia, MI 48150